Ricardo Peña | Owner & Mountain Guide
Ricardo founded Alpine Expeditions in 2004 guiding clients to climb the Mexican volcanoes. He now guides expeditions all over the world including North America, the Andes, Kilimanjaro, the Himalaya and Europe.
Ricardo has climbed and led ascents and expeditions throughout Colorado, the Argentinean, Chilean and Bolivian Andes, the Alaska Range, Mt.Elbrus and the Caucasus mountain range in Russia. He has climbed in the Himalaya including two Everest expeditions, a solo ascent of Island Peak (20,300′) and other 5000m peak ascents in Nepal. He also guides regularly in Mexico (where he's originally from) Nepal and Kilimanjaro.
In April 2014 Ricardo was climbing Mt. Everest when an avalanche killed 16 sherpas and injured many more. Ricardo helped taking care and evacuating the wounded Sherpas. Unfortunately this tragedy led to all expeditions being cancelled and Ricardo was forced to abandon his summit attempt. Read all about the Everest Expedition.
In 2017, Ricardo returned to Everest and climbed as far up as the south col at 26,000′. Unfortunately he was not able to summit due to extreme high winds on his summit day.
Ricardo has summited all 54 Colorado 14ers (many in winter) and went on to finish the 100 highest peaks in Colorado in August of 2022. He has climbed all 50 state high points in the USA and has guided many of these summits.
Among his many ascents in the US he has climbed the Grand Teton (a one day ascent via the Upper Exum), Rainier via 3 different routes including and ascent of Liberty Ridge, a winter ascent of Mount Shasta and a spring ascent of Mount Whitney and led to expeditions to Denali (20,320′). Ricardo regularly leads many hikes, alpine ascents and rock climbs in Colorado.
He has led more than 60 successful expeditions to the Mexican Volcanoes; 8 to Aconcagua 22,841′ as well as other expeditions to the Argentinean and Chilean Andes and the Cordillera Real in Bolivia.
Ricardo has wilderness medical training and is certified as a Wilderness First Responder.
On February 12, 2005 Ricardo discovered the coat and documents of Andes Survivor Eduardo Strauch as well other previously undiscovered airplane parts, while climbing near the impact point of the famous crash, popularized in the book and movie 'Alive". While doing this he put up a first ascent up a 15,400' glaciated unnamed peak. Read about it here: The First discovery.
In December 2005, with a grant from National Geographic, Ricardo led the first expedition that retraced the historic escape route done by Andes Survivors: Roberto Canessa and Nando Parrado in 1972. This was done in the same month as the survivors did to experience the challenge of similar snow conditions. This story was featured on the April 2006 issue of National Geographic Adventure magazine. See photos and read more in the National Geographic Expedition page.
Ricardo has been involved in the making of many documentaries about the Andes Survivors including: 'Stranded' and History Channel's:I am Alive:Surviving the Andes Plane Crash where he did high altitude camera work, he worked as a climbing stunt double and is featured as an expert on the topic throughout the show. Read more about this on our Documentaries page.
Ricardo is a Keynote speaker on the topic of the Andes Survivors and his unique perspective as a high altitude mountaineer. If you'd like to book a lecture or want more info contact us.
Ricardo is also a professional musician. Visit his music website for more info or scroll down to listen to his music and/or see some of his videos.
Hector Ponce De Leon | Mountain Guide
Hector Ponce is one of the best high altitude mountaineers in the world. His impressive list of ascents includes: Mt. Everest 8848m (summitting three times: 1996, 2002, and 2004), three ascents on K2 8611m, two ascents on Kangchenjunga 8585m, summit ascents on Shisha Pangma 8047m, Cho Oyu 8200, Gasherbrum II 8035 and Broad Peak 8042.
His list of technical ascents on Alpine Faces is equally impressive, with ascents on Aconcagua South Face (where he ascended in alpine style the dangerous and highly technical 10,000′ face in 3 days), Huayna Potosi (6080m)West face (3000 vertical feet of ice in 7 hrs), Mont Blanc du Tacul- a 24hr ascent of the Gervasutti Pillar (5.10, Mixed IV, 1400m) just to name a few.

As a guide he has an equally impressive resume having guided Everest, Cho Oyu, GII as well as many ascents on (to name a few) Aconcagua 22,843′, Huayna Potosi 6080m, Illimani 6370m, Sajama 6580m, Illampu 6432m, Huascaran 6800m, Tocllaraju 6100m, Chimborazo 6300m, Cotopaxi 5980m and of course in his native country, the Mexican Volcanoes many times (more than 100 guided ascents)
Hector holds the speed record on the volcanoes having climbed all three: Popo 17,886′, Izta 17,126′ and Orizaba 18,405′ in 17 hrs and 30 mins! He also holds the speed record on El Pico de Orizaba (2hrs 10 mins from the Piedra Grande hut to the summit, and this was after having biked from Tlachichuca at 8800′ to the hut at 14,000′ in 2 hrs and 20 mins) His list of technical rock and ice is also world class with many ascents in Yosemite, the Canadian Rockies and the Alps. Hector is certified as a mountaineering instructor with the Spanish Mountaineering Federation and has a Rescue course certification with the Spanish Mountain School.

Hector is completely fluent in Spanish and English and is legendary for his wonderful disposition with clients, excellent safety record and charismatic and wonderfully humble personality. Hector guides Everest, Cho Oyu, Bolivia, Peru as well as additional itineraries on Aconcagua and Mexico.
Eduardo Strauch | Andes Survivors Expedition Co-Director
Eduardo Strauch is one of the 16 survivors of the Fairchild 571 which crashed into the Andes in 1972.  He, along his 15 mates, endured extreme cold, starvation and the effects of altitude for 72 days before two boys climbed out and brought rescue for the others.  The willpower and strength of the survivors in that difficult situation, as well as the fact that they ate the bodies of the dead to stay alive, has made this one of the most well-known and powerful survival stories of all time.

Now, with Alpine Expeditions, Eduardo co-organizes trips with Ricardo Peña to the crash site, bringing people from all over the world together to witness firsthand the glacier in the Andes where this incredible story took place.  During this trips Eduardo shares all the details of of his incredible ordeal.  They also organize trips to other mountainous regions, such as the Colorado Rockies and the Mexican Volcanoes, where he can recount his ordeal in a similar setting to that in which it took place, for those who cannot make it all the way to Argentina.

Eduardo is a well known architect, a painter and a keynote speaker, giving inspirational lectures in many parts of the world about his experiences, often with Ricardo Peña.  If you are interested in booking one or both of them for a lecture, contact us here.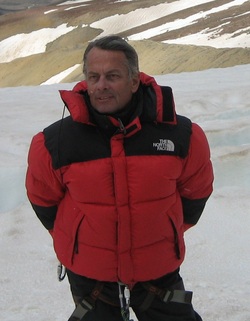 Ulyana Horodyskyj | Assistant guide/Scientist
Ulyana is a scientist, mountaineer, and part-time professor at Colorado College. She received her PhD in geological sciences from the University of Colorado Boulder, where she investigated the formation and growth of glacial lakes in Nepal. By the time she turned 23, Ulyana had visited and worked on all seven continents. She has experience leading expeditions to Kilimanjaro, Aconcagua, Ojos del Salado, Baffin Island, and Iceland. Ulyana assists Alpine Expeditions with the Andes Survivors and Mexican volcanoes expeditions as well as some Colorado guiding.
She has climbed Mt. Rainier in Washington; Lobuche East in Nepal; and 49 of Colorado's 100 highest peaks. She continues to pursue them, as well as the State high points and 7 Summits (of which she's climbed two). Ulyana also brings experience having worked in Antarctic and the Arctic expedition cruises as a resident scientist and polar hiking guide.
---