Documentaries, TV Shows, and More
The story of the Andes Survivors has been covered in many documentaries. The discovery of Eduardo Strauch's coat by Ricardo Peña, and the release of Nando's book Miracle of the Andes, both in 2005, fueled a new wave of documentaries and TV shows.
Eduardo Strauch and Ricardo Peña participated in four projects from 2005 to 2010.
Two short TV specials: TV Azteca's 'Detras del mito de los sobrevivientes de los Andes', first aired in Mexico on July 12, 2010, and TN's 'Los secretos de la tragedia de los Andes', first aired in Argentina on June 5th, 2011.
For TV Azteca's show Eduardo and Ricardo were interviewed in Mexico city during one of their Andes Survivors Mexico Expeditions.
For TN's show Mario Markic and his crew joined the 2011 Andes Survivors Expedition (see photos from this expedition) and filmed Eduardo and Ricardo at the site.
There were also two major documentaries:
The first one was called Stranded: I come from a plane that crashed on the mountain (released 2009). This documentary featured, for the first time, interviews with all 16 of the Andes Survivors. It was Directed by Gonzalo Arijon. Eduardo Strauch was interviewed in Montevideo in 2005. Arijon, a film crew, and four of the survivors (Canessa, Fito Strauch, Zerbino and Sabella) went to the Andes to do some filming at the actual site. Ricardo was hired to be in charge of mountain safety. Arijon saw Ricardo's photos at the actual site from his December 2005 NG expedition and found out that Ricardo had just brought Eduardo to the site (Eduardo was the first survivor to actually go beyond the memorial cross and to the spot on the glacier where the plane was and where they lived 72 days). Arijon asked Ricardo if it would be possible to bring the crew and the 4 survivors onto the glacier to film at the actual spot. This was a tricky prospect. The glacier was heavily crevassed and the responsibility of taking these famous survivors into this dangerous terrain was considerable. Ricardo would jokingly point out "I do not want to be remembered in history as the person responsible for the death of one of the famous survivors, not after what they survived!!" The challenge was met by fixing two lines: one for the film crew and one for the survivors, and having everyone wearing climbing harnesses. Behind the survivors you can see a huge crevasse if you pay attention. See photos below.
The four survivors and Ricardo spent time together during this trip and had great conversations about 1972 and about Ricardo's perspective as a mountaineer. Roberto Canessa and Ricardo chose to hike together (instead of riding horses) most of the way back from the cross to base camp. It was on this hike that Ricardo told Roberto: "You know, hiking in the Andes with you (The famous Survivor who crossed the Andes) is like being on Everest with Edmund Hillary!" (First climber to summit Everest). By total chance, the next day they would fly together from Mendoza to Santiago. This was a significant coincidence, since the last time Canessa boarded a flight from Mendoza to Santiago was in 1972 when they crashed (He had flown to Santiago many times after 1972 but not from Mendoza). See short video of the flight where Roberto jokes that if they crashed he'd be out quicker since he is with Ricardo!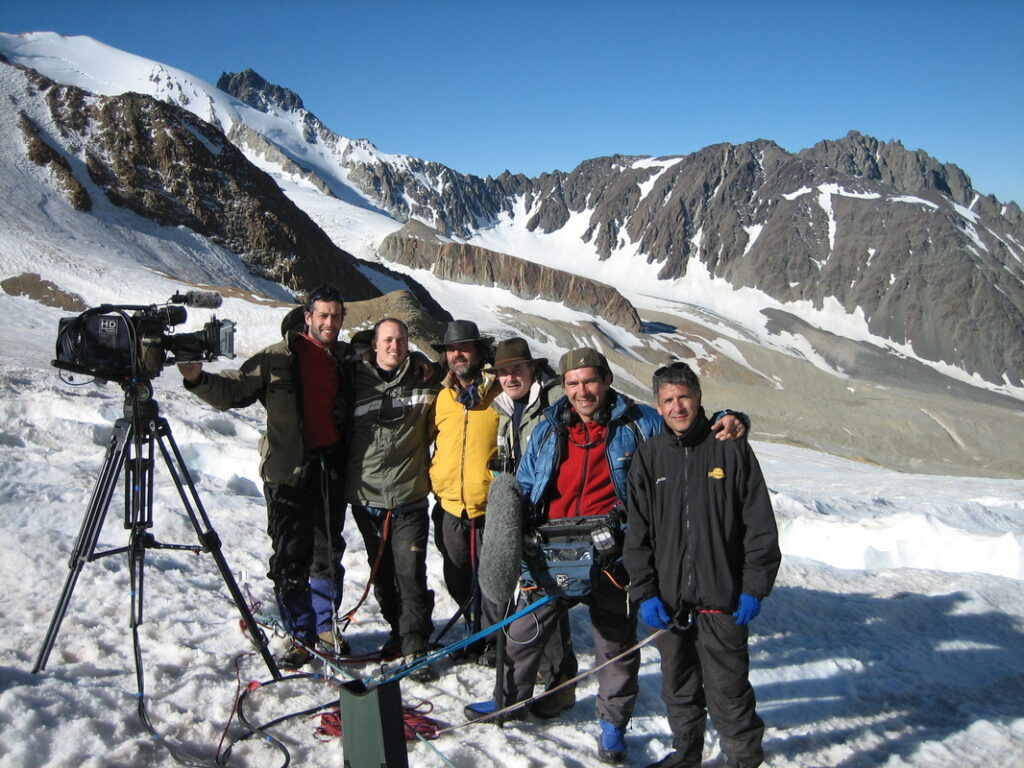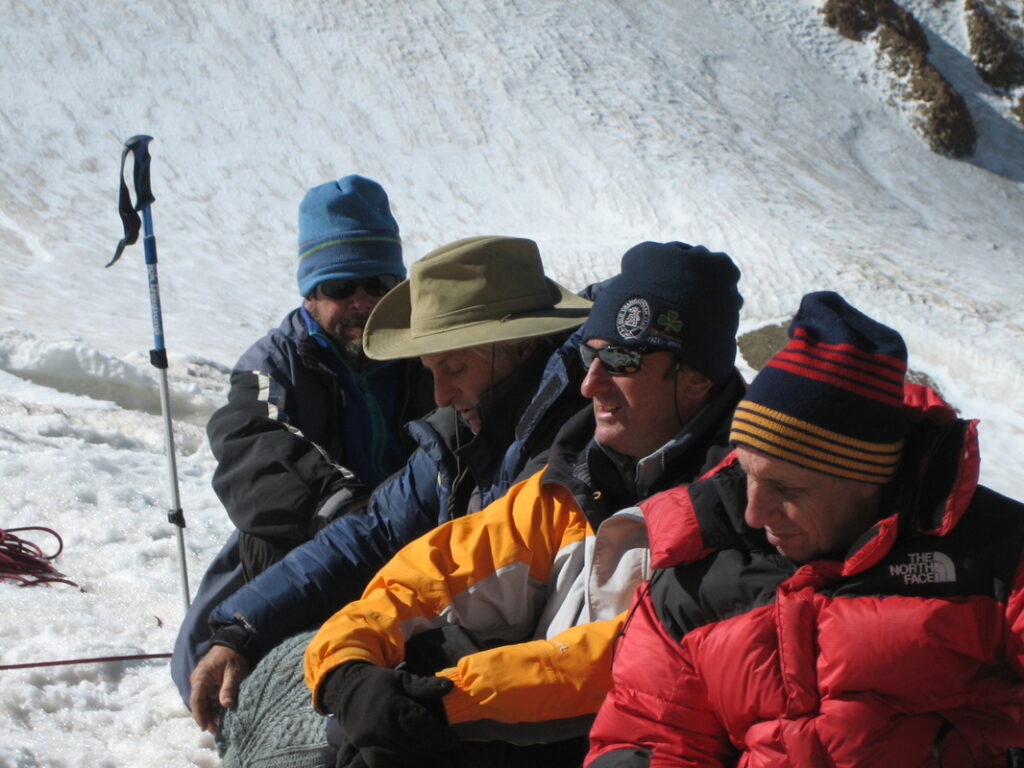 The latest documentary is the superb production of AMS Pictures and director Brad Osborne:
History Channel's: I Am Alive: Surviving the Andes Plane Crash
This was a true labor of love by director Brad and by executive producer Andy Streitfeld, both big fans of the story. Their original idea was to tell Nando's perspective of the event but near the end and with a change of title by History Channel, the documentary encompassed more than just Nando's story. Nando Parrado was approached by Andy and Brad and loved the idea. Nando suggested they called Ricardo, as he could provide a lot of knowledge of the story, and photos and info from the expedition that repeated Nando and Roberto's crossing of the Andes. Ricardo met Andy and Brad briefly at Dallas airport on his way to a Mexico expedition and the three hit it off instantly. Ricardo was interviewed and filmed in Austin, Texas on December 23, 2009. This is the footage you see of Ricardo in the documentary. Andy and Brad quickly realized that Ricardo's telling of the story was passionate, sincere and engaging so they had him talk about the whole story (not just the expedition) and later used a lot of this on the documentary. In fact, Ricardo was surprised to see just how much!
In January 2010, Andy and his son Danny Streitfeld joined the Andes Survivors 2010 expedition to film Eduardo and Ricardo as well as many location shots. In April, 2010 shooting took place in Angelfire, New Mexico with a perfect-to-scale mock fuselage. Ricardo was invited to participate as expert consultant. Brad and Ricardo made a great team and worked with the actors to make the re-enactaments very realistic and true to the story. Finally, in June one more mountain shoot took place in Colorado. Ricardo selected three locations: Flagstaff mountain at about 7000′ in Boulder for some rock climbing shots where he was a stunt climber for "Nando", Loveland Pass for steep snow climbing shots at 13,000′ where he did stunt work for "Canessa" while bringing a fellow climber (Chad Muehling) to double for Nando, and finally Mt. Evans for some "summit" re-enactments of when Nando and Roberto reached the highest point in their escape expedition. On Mt. Evans Ricardo was interviewed as himself, helping out by being in charge of Mountain Safety. Snowy Mt. Evans in early June was a more extreme environment to film in, since some of these shots were done at 14,200′ where actors and the film crew endured cold, wind and the effects of the lack of oxygen. It was a very realistic setting!
On September 24, 2010, in Dallas, Texas, AMS pictures held a private final screening and premiere of the documentary. Nando, Ricardo, Brad Osborne, Andy Streitfeld and the entire AMS crew was present, as well as select guests. Shortly afterward it premiered in the USA on the History Channel. 2011 marked the world premier and it is now on rotation on History Channel throughout the world. People from every corner of the world have contacted us wanting to be in touch with Ricardo and wanting more info. We hope everyone enjoys all the new information, videos and photos. It is for all of you that we have done all this work.